Sensei Nikolay Marinov Petkov
Sensei Nikolay Marinov Petkov – VI Dan Aikikai was born on January 7-th 1964. He graduated higher economic education with specialization in Trade and Marketing and Master's degree in Human Resources Management. He graduated also National Sports Academy with professional qualification on Trainer in Aikido. Happy married.
Sensei Nikolay Petkov started to study Aikido in 1989, and with training since 1995. In 1996 he founded Aikido Club Slavia and presented the Club as a President and Chief instructor. He is an official representative of Aikido Kobayashi Dojo in Bulgaria and also is a member of Board directors of United Sports Club Slavia.
The Ministry of Youth and Sports issued on February 27, 2020 Certificate for Aikido coach, with which he is entered in the Register for coaching staff of Bulgaria.
Sensei Nikolay Petkov has been participated in many international Aikido seminars under the leadership of famous masters in Aikido, presented different training centers and organizations worldwide, as follows:
Sensei Koliopolus George – V Dan
Sensei Moor Keeth – V Dan
Sensei Millar David – V Dan
Sensei Solonicin Iliya – IV Дан
Shihandai Massa John – V Dan
Shihandai Nakayama Djeims – V Dan
Shihandai Tadjiri Hiroshi – VI Dan
Shihan Toyoda Fumio – VII Dan
Shuhan Kobayashi Yasuo – VIII Dan
Shihan Sato Andy - VI Dan
Shihan Correlini Paolo – VII Dan
Shihan Tissier Christian – VII Dan
Shihan Fudjimoto Yodji – VII Dan
Shihan Quaranta Mickele – VI Dan
Shihan Rogers John - VII Dan
Shihan Kobayashi Hiroaki – VI Dan
Shihan Shirakawa Katsutoshi – VII Dan
Shihan Shunichiro Koyanagi – VI Dan
Shihan Urban Aldenklint – VI Dan
Shihan Ettsudzhi Hori – VII Dan
Shihan Kuribayashi Takanori – VII Dan
Shihan Nebi Vural - VII Dan
Shihan Miyamoto Tsuruzo VIII Dan
Shihan Yoshimitsu Yamada - VIII Dan
Dojo - cho Mitsutero Ueshiba
Shihan Masuda Manabu - VII Dan
Shihan Kobayashi Mikio - VII Dan
Shihan Tetsutaka Sugawara – VII Dan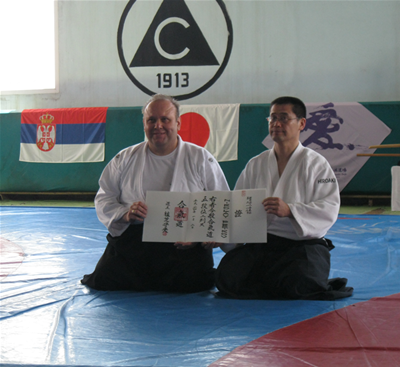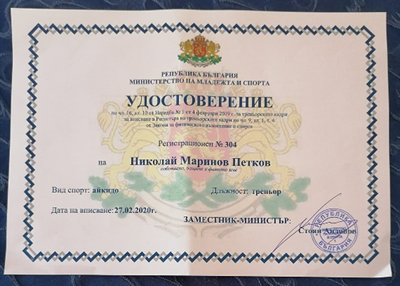 Monday - 20:00 - 21:30
Wednesday - 20:00 - 21:30
Friday - 20:00 - 21:30


Tuesday - 20:00 - 21:30
Thursday - 20:00 - 21:30
Saturday -11:00 -12:30

Aikido Club Slavia ® Copyright© 2013
www.aikido-bg.org
office@aikido-bg.org