Hiroaki Kobayashi - Shihan - VII Dan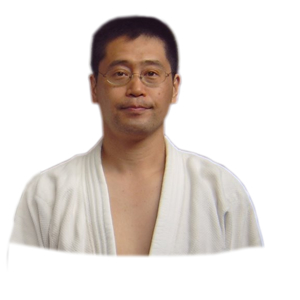 Birthplace:
Born in Kodaira, Tokyo
Graduated form Takushoku University,
Faculty of Foreign Languages, Department of Chinese Language.
Graduated form Kyorin University,
Graduate School of International Cooperation Studies.
Dojos in charge:
Tokorozawa, Tachikawa, Itabashi, and Tanashi.
Specialties:
Skiing, Playing at cup-and-ball toy.
As the first member of Kobayashi Dojo, started aikido at 3. When in school, visited the Solomon islands, Papua New Guinea, and Iwo Jima as a volunteer member of Japan Youth Memorial Association (a student organization that intend to collect remains of Japanese war veterans).
After graduating from school, stayed in Indonesia for 2 and half years to teach aikido as a JOCV (Japan Overseas Cooperation Volunteers) aikido instructor, then stayed in Poland for half a year to teach as a JOCV aikido instructor.
As Dojocho (president) of Aikido Kobayashi Dojo, governing instructors section of Kobayashi Dojo.
Fluent in Chinese, Indonesian, and English.
Staying outside of Japan, in total, a few months a year for aikido instruction.

Monday - 20:00 - 21:30
Wednesday - 20:00 - 21:30
Friday - 20:00 - 21:30


Tuesday - 20:00 - 21:30
Thursday - 20:00 - 21:30
Saturday -11:00 -12:30

Aikido Club Slavia ® Copyright© 2013
www.aikido-bg.org
office@aikido-bg.org